I attended my first Dreamforce conference last year and had the privilege of learning how non-profit organizations have been fundamentally changed by adopting Salesforce through the Salesforce.org 1-1-1 model. At about the same time, I reconnected with a former employer who is currently on the board of a progressive food bank.
Reaching Out
There are many non-profits that internally decide to pursue a solution such as Salesforce. Some organizations have the budget to hire a consultant. Others decide to go it alone, and implement Salesforce while staff and volunteers learn the platform. The presentations I attended furnished examples of both.
I chose a different path. Instead of being on the receiving end of a request for assistance, I reached out to an organization that desperately needed an upgrade in technology to handle an expanding array of clients and services.
After making a case for this endeavor, the executive team at Celedon Partners agreed to support this project and joined the ranks of other businesses committed to giving back to our communities. This post is the first of what hopefully will be an insightful and useful series for both non-profits and the consultants that partner with them.
The Organization
North Kitsap Fishline is located in Poulsbo, Washington. The primary function of the organization is providing food assistance for area residents.

One very unique feature of Fishline is providing a "normal" shopping experience for the food recipients. Instead of simply handing out bags of food, the atmosphere is that of a small grocery store, complete with shopping carts, prices in "Fishbucks" currency and even checkout.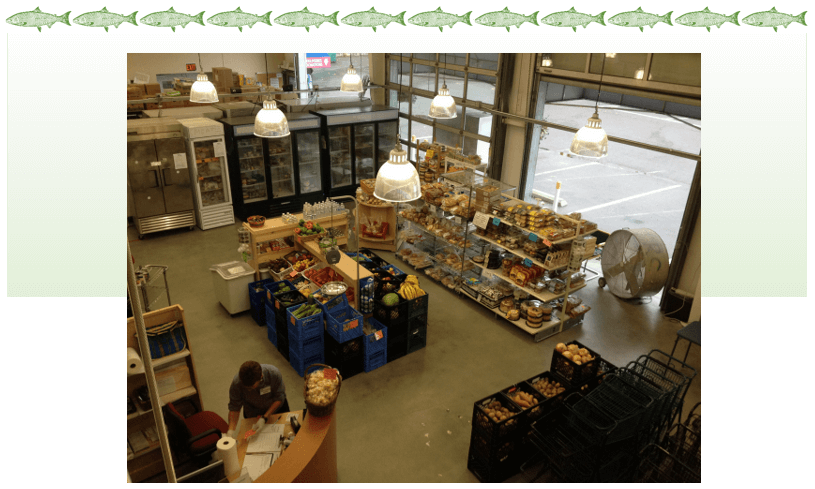 This is by no means the extent of services provided. Fishline also assists with housing, utility bills, dental and medical services, legal advice – and the list keeps growing.
The Project
It started humbly, as these things always do. A local developer years ago wrote a Windows-based food bank application that many food banks throughout Washington State utilize. Not only did he provide it at no charge – he also has supported it at no charge for years.
As much as Fishline relies on that application, and it has served them well, the needs have outstripped the functionality of the software. I reviewed the application and we discussed how it was used within the organization. The mandate was to find a replacement for this software that reproduced its functionality and yet was scalable. On the surface it seemed like a fairly simple proposition – we needed to configure Salesforce to handle households, individuals within households, businesses and organizations who donate food, the donations themselves, calculations of how much Fishbuck's credit is allotted, and, of course, to provide comprehensive reports.
The Agreement
We slated this for a four-month project with a fixed number of hours provided at a rate of – well, zero. The stipulation from the executive team was that this must be handled like any other contract with the only difference being the rate. In other words, this was not open-ended and the scope of the services were clearly documented. The client also agreed to provide the necessary information and resources to keep the project moving.
From a contractual perspective this makes total sense. What I didn't anctipate, and as this blog series will chronicle, I have come to realize that this agreement (and constant reference to it during the process) is our lifeline to keeping this project somewhat on track.
What I Hope to Share
First, let's get one thing straight. Although I am going to lay out for you the good, the bad and the ugly, the folks at Fishline are some of the most awesome people I have ever had a chance to work with. The number of staff is insufficient for the organizational needs, and yet, with gratitude, they reliably set aside time every week to plan, document, review, and test the features we are implementing.
The title of this series is "Salesforce.org: Deploy in Four." Of course, I picked the title before the project really got underway. My intent, as with other projects I lead, is to use the Agile methodology to produce tangible results at least every four weeks. I admit that this has not exactly been the case. Nevertheless, I firmly believe it is a reasonable goal, and having this goal is a safeguard against losing momentum, one of the greatest threats to any project.
The real instigator for this blog series (and thus the title) is what I heard at Dreamforce. It pained me to hear, one non-profit after the other, refer to a one to three year struggle to get Salesforce fully implemented. Of course, every presenter was ecstatic about Salesforce, just exasperated about what it took to implement.
My goal is to share my experience as a consultant and what I have learned on this project to help other non-profits greatly reduce the time and frustration involved in implementing what I feel is by far the greatest piece of technology any non-profit could ever adopt.